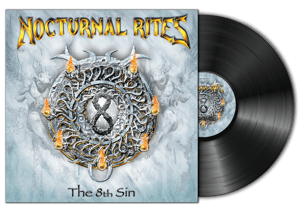 €

19.99
Nocturnal Rites - The 8th Sin [LP edition]
The classic eighth album from the Swedish melodic metal masters NOCTURNAL RITES, finally on vinyl!
The vinyl edition is strictly limited to 500 copies (300 copies with black disc and 200 copies with white disc) worldwide. Pick color below.
Release date: November 9th
Pre-order now and we'll ship your order one week ahead of the release date!
Estimated shipping times:
Europe: 3-8 working days
North America: 1-2 weeks
The rest of the world: 2-5 weeks
"The 8th Sin" vinyl track listing
Side A
01. Call Out To The World
02. Never Again
03. Not The Only
04. Tell Me
05. Not Like You
Side B
01. Leave Me Alone
02. Till I Come Alive
03. Strong Enough
04. Me
05. Pain & Pleasure
06. Fool's Parade (outro)